Description
SCOPE AND SEQUENCE
The Thread Is Packed With These (awesome) Features: (sample them all below)
• Access for unlimited teachers within your church #budgetsaver
• Lesson plans with Bible Backgrounds
• Weekly Teacher Prep Videos allowing your leaders to prep easier
• 5 digital devotions for weekly posting on social media, your blog, or church website 
• Weekly Parent Pages for helping parents stay connected and be equipped to do at-home discipleship
• Weekly Social Media Suggestions for helping you stay connected with your students during the week
• PowerPoint background images and Promo Artwork (web banners and a printable poster)

The Thread Is Ideal For:
• Sunday mornings
• Discipleship purposes
• Large and Small Group settings
Specs:
• 52-total lessons
• 100% downloadble. Everything is reproducible and editable.

THE ULTIMATE THREAD COMBO: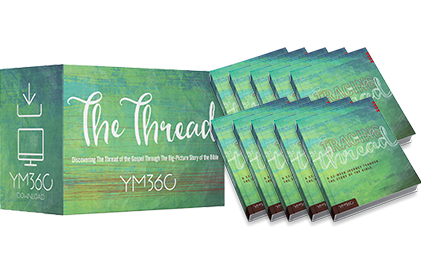 Purchase the Thread Curriculum Devotional Bundle and give your students a premium devotional experience that helps them grow deeper in their study of God's Word alongside your lessons each week. Includes Curriculum + 10 Devotional Journals to get started with options for adding more!
---
Got questions? Experience our world-class customer care. We love helping you. || Locate our LIVE CHAT feature to chat with us || or call 888.969.6360

Resources Previews, Samples, and more
Scope and Sequence
Download the scope and sequence for The Thread, a 52-lesson curriculum!
FREE Lesson
Get an up close look at a lesson plan. You'll get both PDF and DOC for each lesson!
Weekly Student Devotions
You'll get 5 weekly devotions to post on social media, your blog, or church website ... or purchase our Tracing The Thread Devo Journal and watch your students grow deeper alongside your lessons weekly!
Parent Resources
Partnering with parents is vital. That's why each week you'll have a letter to send to parents. Plus, you'll have an overview of the entire study to kick things off. You'll get both PDF and DOC for each lesson!
Social Media Guide
Each week you'll have Social Media Suggestions to help you make connections on social media outside your lesson time. Ideal for Twitter, Facebook, or texting.
Weekly Teacher Prep Videos
Each lesson in The Thread features a Teacher Prep Video. These short videos help guide your teachers in exactly what to focus on in their lesson preparation.
Click Image To Preview
Our Promise To You
Hear from our team on how we're committed to providing you with resources you can trust to teach the truths of the Bible in your youth ministry.

Click Image To Preview