Lesson 1 of Focus: A 6-lesson Study On The Book Of Colossians
Download This Freebie
Login or create an account to access these files.
Login or Create a YM360 Account
Download an entire lesson from our Focus Study on the Book of Colossians. (for free!)
Description
All ym360 freebies are now accessible by having a ym360.com user account.
Once you have an account, you'll be able to access all current and future freebies!
Log In Or Sign Up Below
---
Here at ym360, we love giving away resources that can encourage and support you. It flows from our desire to equip and serve youth workers. So thanks for the opportunity!
ABOUT THIS FREEBIE: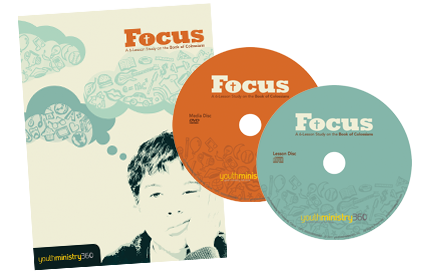 We're giving an entire lesson of Focus, our 6-lesson study on the Book of Colossians. This is a powerful study that will help teach your students that Christ is to be focus of who they are, their very center of attention.
Want to teach all 6 lessons in Focus?
Purchase The Full Version here
INCLUDED IN THIS FREEBIE:
Complete Leader's Guide w/ Bible Background
A Student Guide for your in-class Bible Study time
A PowerPoint slideshow designed to help you craft a customized presentation
A Sample Packet outlining the awesome supporting resources included in Focus
Preview: Lesson 1 Intro Video Component (not included in freebie)