24-Week Bible Study Super Pack
Description
24-weeks in this bundle gives you powerful curriculum and incredible value!

Studies Included In The Bible Study Super Pack:
Vivid: A 6-lesson Study On The Book Of James

Do your students' lives reflect their beliefs? Vivid will challenge your students to live a life of faith-in-action.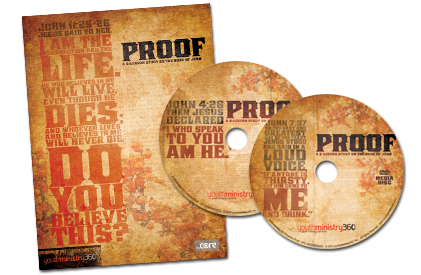 Proof: A 6-lesson Study On The Book Of John

"Who is Jesus?" Proof teaches students who Christ is and what it truly means to be known by Him.
Engage: Impacting A Hostile World [4 lessons]
Engage challenges your students with a call to impact the world around them in the name of Christ.
The Least Of These: God, Poverty, and You [4 lessons]
TLOT teaches students why poverty exists, what God expects them to do about it, and the hope of a God-delivered future with no suffering.
Live Different: What The Bible Says About Sex And Holiness [4 lessons]
Live Different teaches God's intent for sex and how God views sex outside of this intent. And shows God's call to holiness in a world of sexual immorality.
SPECIAL ADD-ON: Add our 6-week study Focus to this pack for a total of $229! (and that'll give you a total of 30 weeks!)

More On Bible Study Super Pack:
Vivid Lesson Overviews:
Proof Lesson Overviews:
Engage Lesson Overviews:
The Least Of These Lesson Overviews:
Live Different Lesson Overviews:

This Super Pack Is Ideal For:
• Your weekly large group youth gathering
• Small group Bible studies
• Sunday mornings, and much more
You Should Know:
• Includes some incredible features; sample them all below.
• Depending on teaching style, you'll get 30-40 minutes out of each lesson.
• Thisis not a video-based curriculum. The heart of these studies is you (or a leader) teaching the Bible to students using the this curriculum.
---
Got questions? Experience our world-class customer care. We love helping you. || locate our LIVE CHAT feature to chat with us || or call 888.969.6360

Resources Previews, Samples, and more
Lesson Plan + Student Guide
Each lesson features a biblically solid, highly interactive Lesson Plan complete with Bible Background and Student Guide. (Word version also included)
Lesson Media
Each lesson includes interactive media of some sort. Most lessons begin with a short illustration video like this one to grab your students' attention and get them ready to engage with the lesson.
Teacher Prep Videos
Each lesson features a Teacher Prep Video, short videos that guide your teachers in exactly what to focus on in their lesson preparation.