Games for Youth Ministry Monthly Membership
Description
"SO GOOD, THEY'RE REALLY GOOD!" - Literally Everybody
WHAT MAKES OUR GAMES DIFFERENT?
Launch It:
• Each game is an app that runs on your Mac/PC!
• They take control of your screen, just like your presentation software!
• All you need to do is download, install, and launch it!
Play it:
• Since the games are apps, you get to control what happens on the screen!
• Get your students up and out of their seats with tons of interactive games!
• All of our games are designed specifically for youth ministry.
Play It Again:
• And again, and again, and again.
• Our app-based games platform allows you to play your games over and over with unique outcomes each time.
• No more basic and predictable games that are played once and trashed. Poof! 
---
Got questions? Experience our world-class customer care. We love helping you. || locate our LIVE CHAT feature to chat with us || or call 888.969.6360
Resources Previews, Samples, and more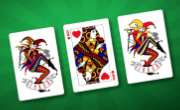 Demo One of Parker's Favorites!
Parker hand-picked this game to suggest for you to demo. Give it a shot!

Meet Parker, our Games Creator
Listen to Parker talk about the heart behind creating these games and the value they'll deliver.
Click image to preview..